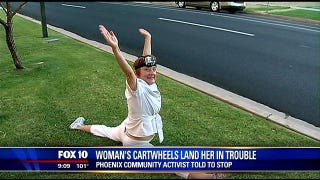 Dianne "DD" Barker is making a stand for her rights - specifically, the right to express her thoughts on complex urban planning issues through interpretive gymnastics.
Last week Barker, 65, received a cease-and-desist letter from attorneys for the Maricopa Association of Governments (MAG) demanding that the one-time-very-long-ago Ohio State cheerleader stop performing cartwheels while speaking at planning organization's public meetings.
"I think that the cartwheel is something I found out that I could do that is enjoyable, and it definitely expresses my passion," Barker told FOX 10.
She says that the cartwheels are a demonstration of the healthy benefits of walking and taking the bus, and regularly performs her cartwheel routine at MAG public meetings. But in their letter, MAG attorneys say that they've warned Barker before about her "disruptive" cartwheels.
MAG chairman Michael Levault says he wasn't trying to stifle Barker's freedom of speech, just her freedom of movement.
"It's not my intention to shut down public comment at all," LeVault told the Arizona Republic. "It was just really a safety issue."
The irrepressibly agile Barker says that cartwheels are just the beginning, telling FOX 10, "I'm walking down the wall backwards and getting myself in shape for doing the back over."
[Image via MyFOXPhoenix.com]