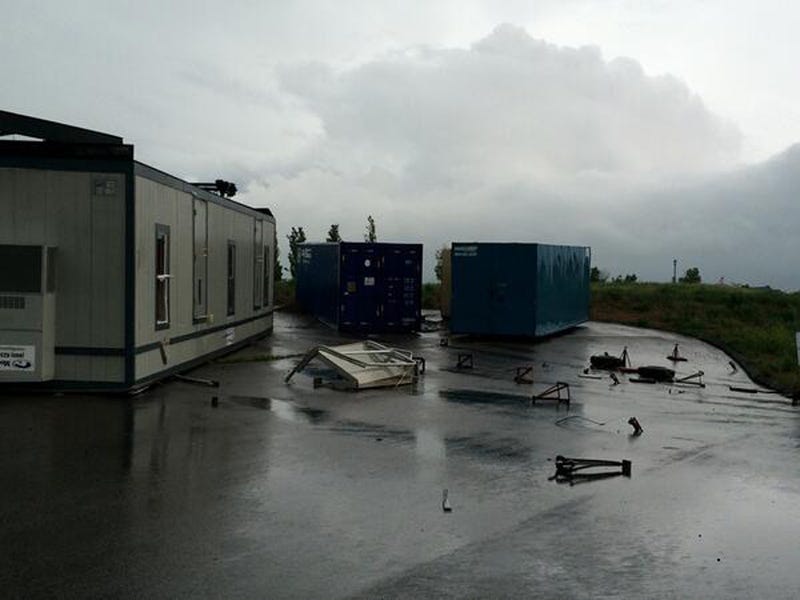 Authorities say that one person was injured after a tornado tossed a golf cart loaded with passengers at a suburban Denver golf course on Sunday afternoon.
The Black Stone Country Club in Aurora was hosting a junior golf tournament when the tornado - one of eight to hit the Denver area on Sunday - struck around 1 p.m. According the witnesses, the tornado lifted the golf cart a few feet into the air before slamming it back to the ground.
Paul Cleveland, 16, says that he and two other passengers - another golfer and a caddy -were on the golf cart with a driver when the tornado lifted them up and rolled them over.
Cleveland says that he, the other golfer and the cart driver were thrown to the ground but somehow escaped uninjured, while the caddy was bleeding from a head wound and had suffered a compound fracture to his wrist.
Officials say that the caddy - the only only reported injury victim from any of Sunday's tornadoes - was hospitalized in stable condition.
"Seeing the tornado and knowing we were stuck in the middle. We knew we couldn't go back, so we just had to go through it," Cleveland told 7NEWS.
According to Rocky Mountain Junior Golf Tour tournament director Tracy Cologne, there were 97 golfers and seven staffers on the course when the storm, which also overturned a construction trailer at the course, was spotted.
"When we saw the black cloud, we decided to call (off) the tournament," Cologne told the Denver Post.
[Image via TheDenverChannel.com]