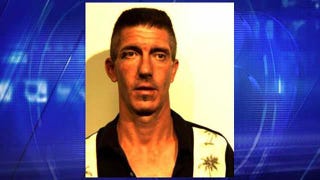 Amateur astronomy buff, snazzy tropical shirt enthusiast and alleged stoner Cameron Frank Read, 39, faces several felony charges - including resisting arrest and endangerment - after police in Prescott Valley, Arizona, say he admitted trying to take down the moon with a handgun.
According to police, Read's girlfriend called authorities last Friday night after she says he talked about seeing Halley's Comet and fired a round out of the window of the home they share with her teenage son. The girlfriend and her son then fled the house as Read allegedly fired more shots.
When police arrived, Read refused to leave the house but was eventually taken into custody by force. Authorities say that Read admitted that he fired several shots at the moon, and that he had been smoking marijuana before the incident.
There were no injuries in the incident and the moon remains unharmed in orbit some 250,000 miles from Earth. However if this had happened in a cartoon universe the result could have been disastrous:
<Top image via AZFamily.com>